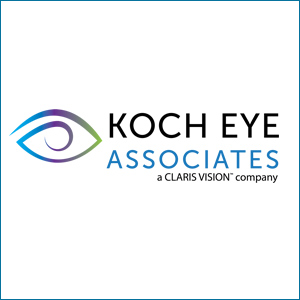 Website : www.kocheye.com
Koch Eye Associates started from scratch in 1981, in a small building on Tollgate Road. Back then there were only three people working in the office. Drs. Paul and Patricia Koch saw what few patients there were and Dr. Paul's wife answered the phone and handled the front desk. Things were slow at the start and we averaged seeing only four patients a day. Sometimes we didn't have a single patient to see for an entire day. This is a true story: shortly after the movie "E.T." came out there was an afternoon when our schedule was completely empty. We didn't have a single patient scheduled. We put the office on answering service, locked the door and we all went to see the movie at afternoon matinee.
Things got busier, and by 1983 we finally had to add an employee to help out, and in 1985 we were busy enough to add a third doctor. As the years passed we noticed patients coming to see us from a wide geography and so we opened new offices throughout the state. Eventually we had more than 20 doctors treating patients at a dozen locations including offices, laser vision centers and a surgery center.

Thirty years after opening their first office the Koch family made plans for the long term future of the practice. Koch Eye Associates was acquired by Candescent Partners of Boston, thus ensuring our patients would have continuity long into the future. Two years later our practice was joined by a similar sized practice, Eye Health Vision Centers of Massachusetts under the umbrella of ClarisVision, Inc.
We are now one of the largest eye care practices on the East Coast, with more than 50 doctors treating patients at many offices from Connecticut to Cape Cod, two laser vision centers and two surgery centers.
Koch Eye Associates is a regional training center for eye care professionals. We have trained post-graduate fellows from the United States, South America and China. We have hosted visiting doctors from Central and South America, Europe, Africa and Asia. We are one of the clinical training sites for the New England College of Optometry. Our doctors have performed clinical research, and written scientific articles, chapters and textbooks. They have been granted patents for their inventions in the field of eye care, and have garnered many awards including Honor Awards and Lifetime Achievement Awards.
In 2005 we moved our surgery center from Tollgate Road to a new freestanding location on Quaker Lane in Warwick. In the St. James Surgery Center we developed a facility unmatched in its commitment to the most modern equipment and technology for modern cataract and laser surgery housed in a warm and comfortable setting.
We took the name St. James from our parish church in West Warwick. When the Diocese of Providence decided consolidate and to close the parish it broke our hearts. We approached the Diocese and got permission to salvage the interior of the church. We use furnishings from the church and historic photographs throughout our surgery center. It reminds us that our surgical results are ultimately a blessing from above.
Koch Eye Associates has grown from a tiny start-up office to a major regional Center of Excellence. We do many things, but we do them one at a time. We combine highly technical science with personal care and attention. That has been the basis of our past successes, and it continues to lead us into the future.